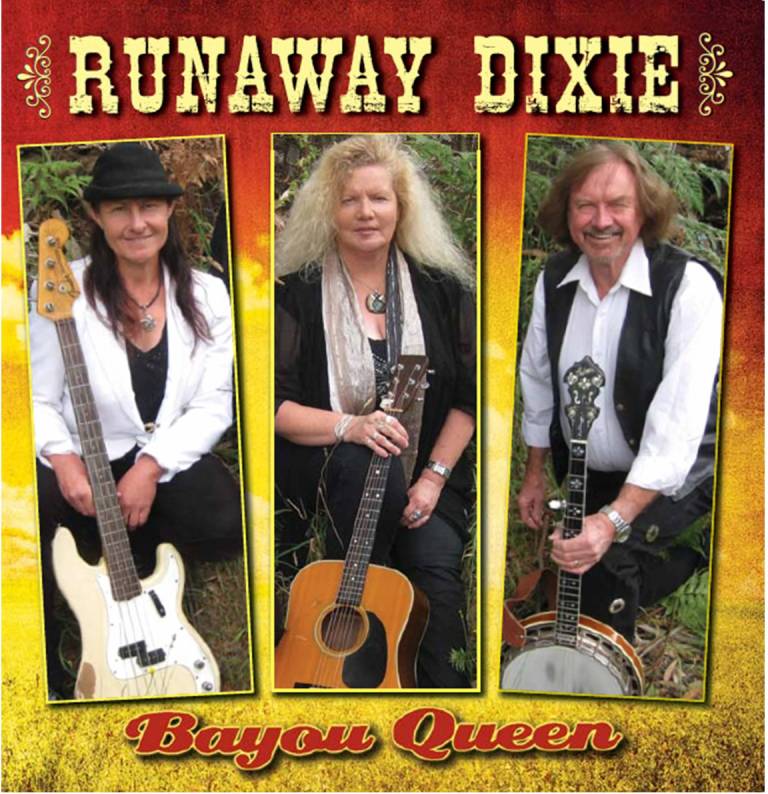 ---
CD - Bayou Queen

Now available!!!
1. ROCKIN' CHAIR (Rick Cardwell) 3.49
2. BLACK MOUNTAIN RAG (Tommy Magness) (Runaway Dixie version) 3.01
3. LONESOME AND BLUE (V. Hermel) 3.17
4. IT'S ALL ROCK'N'ROLL TO ME (J.& V. Hermel) 3.06
5. COAL MINER'S BLUES (Trad. Arr. V. Hermel) 3.44
6. LAST THREE STEPS TO HEAVEN (J.& V. Hermel) 3.07
7. REACH OUT YOUR HAND (V. Hermel) 3.46
8. BAYOU QUEEN (J.& V. Hermel) 4.04
9. OL' BLACK JOE (S. FOSTER) 4.01
10. JESUS IS A WORKIN' MAN (J.& V. Hermel) 2.38
11. LONG BLACK TRAIN (Josh Turner) 4.29
12. POOR VALLEY BREAKDOWN (J.& V. Hermel) 2.12
13. FAMILY BIBLE (W Nelson) 3.32
14. LONESOME VALLEY (Trad. Arr. J.& V. Hermel) 3.12
15. GOLDEN BRIDGE (V. Hermel) 3.06
16. CHURCH IN THE WILDWOOD (Dr. W S. Pitts) 2.10
Albums are available via snail mail orders or at our shows. :)

PAYPAL link.
After clicking on link
Choose to either pay through your Paypal Account or see OPTION to 'continue' to pay with your own card.
Payment notification is sent immediately to us, and you will receive a reply that we have received your order and advice of whne it is mailed to you.

$25 for the CD is the total rate
There is no extra for postage or handling.
---
CD - Golden Mile (Mp3 snippets on Myspace Page)
01. Gospel Medley: Will The Circle Be Unbroken (A. P.Carter)
/I Saw The Light (H. Williams)/I'll Fly Away (Albert E. Brumley) 2.56
02. Swing Low, Sweet Chariot (Trad. Arr. V. Coad) 2.40
03. Golden Mile (J. & V. Hermel) 3.37
"Golden Mile" - WINNER - TSA GOSPEL SONG OF THE YEAR - 2010!
04. Amazing Grace (J. Newton, Arr. J. & V. Hermel) 3.34
05. Never Grow Old (James C. Moore) 2.18
06. What A Friend We Have In Jesus (C. Converse, J. Scriven, Arr. J. & V. Hermel) 3.05
07. Duelling Banjos (A. Smith) 2.35
08. Hobo's Lullaby (Goebel Reeves) 4.12
09. Cripple Creek (Trad. Arr. J. & V. Hermel) 1.50
10. Ten Golden Rules (Shorty Ranger) 3.00
11. Going To The River (J. & V. Hermel) 2.33
12. Foggy Mountain Breakdown (E. Scruggs) 2.13
13. Leavin' Louisiana (in the Broad Daylight) (Cowart, Donavan, R. Crowell) 3.30
14. Gospel Train (J. & V. Hermel) 2.45
15. Orange Blossom Special (E. T. Rouse) 2.32
16. Keep On The Sunnyside (A.P. Carter, G. Garrett) 3.22
17. The Fiddler's Lament (V. Coad) 1.17